Knox
RAPID ACCESS SOLUTIONS FROM A LOCAL TRUSTED PARTNER
As an authorized local Knox Trusted Partner, VSC Fire & Security provides a convenient local source for Knox inventory, product knowledge, guidance, local code and product application expertise, installation services, and support to building owners and contractors. Our goal is to ensure business owners and facility managers receive the most efficient and effective solutions and installation. Leveraging our extensive knowledge in fire, security and suppression, along with a strong reputation as a provider – VSC Fire & Security is committed to being your resource for rapid access products that provide first responders with secure entry into your property with minimal force, damage and delay.
As your Knox Trusted Partner, we are committed to delivering the same Quality Standard that Knox has provided for more than 45 years.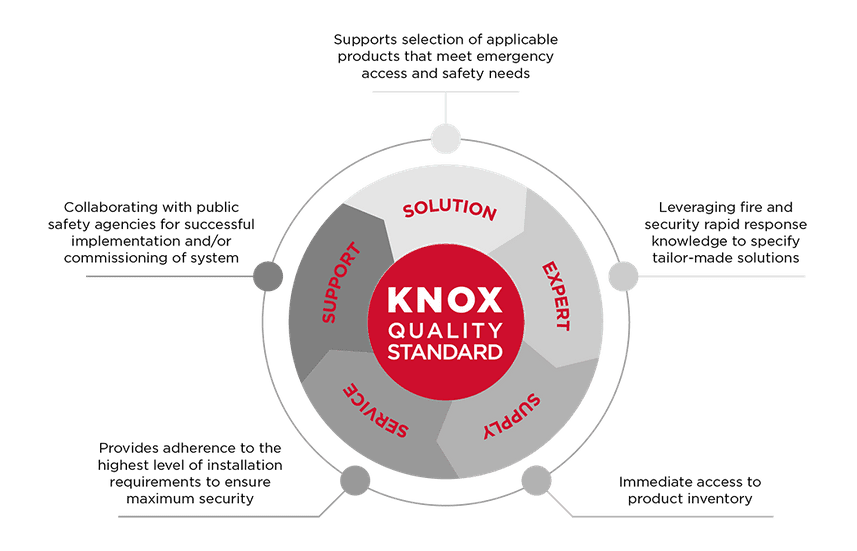 ---
Knox Rapid Access System
Knox's premier line of Rapid Access Solutions help building owners and managers preserve and protect their properties. Aligning with VSC Fire & Security as a Trusted Partner now elevates an owner's assurance of greater service to deliver:
Local code knowledge
Application and product expertise
Local inventory installation and support to building owners and contractors
Communication and relationships with local fire jurisdictions
Discover the areas throughout your property, where Knox products can provide first responders with secure access.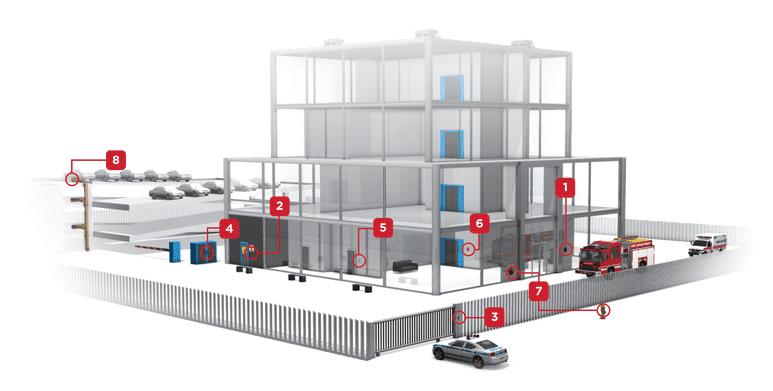 ---
Brochures & Resources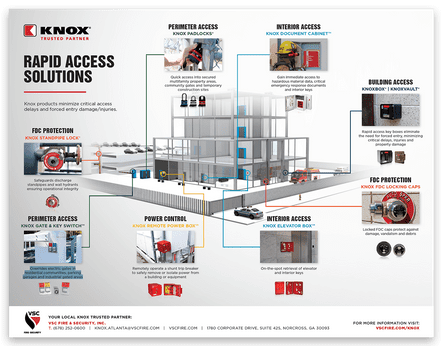 Download Brochure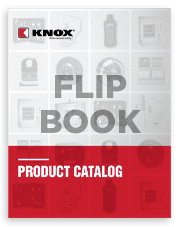 View Catalog
---
VSC Fire & Security – 60 Years of Comprehensive Asset Protection
Since 1958, VSC Fire & Security has offered unmatched experience and expertise in fire detection, alarm and security, and fire suppression technology. Since inception, VSC's focus has been centered around employees, customers, reputation and the daily work of protecting lives and property, leading VSC to become one of the largest and most successful companies within the industry. Currently, VSC has over 1,200 employees and 18 offices spanning across the East Coast from Maryland to Florida, and west into Arkansas. With over 60 years of proven performance, VSC provides fire sprinkler, fire suppression, extinguishing agent and fire alarm inspection, repair, design and installation to facilities and companies of all types and sizes. VSC's goal is to deliver asset protection solutions and services that are right for your facility, business and people.
We have worked with VSC for over (7) years and always appreciate the partnership. They provide solid, dependable work with professionalism and efficiency. One key difference we've found is in their depth of knowledge which is critical for problem solving. We look forward to continuing and growing this partnership in the years to come. Their commitment to excellence is evident and we trust VSC when it comes to securing and maintaining our buildings and valuable assets.
Bernadette Coleman, CPM, CFM, LEED Green Associate
Director of Property Management, Brandywine Realty Trust
---
Our Locations
Newsletter Sign-Up
Subscribe to get the latest company news and fire safety tips for your business.
Sign Up